Willamette Valley Vineyards Wine Cruise on Rhine & Moselle Rivers
07/24/2024 - 07/31/2024
Escorted by Mary Joli
Vineyards of the Rhine & Moselle, with Mary Joli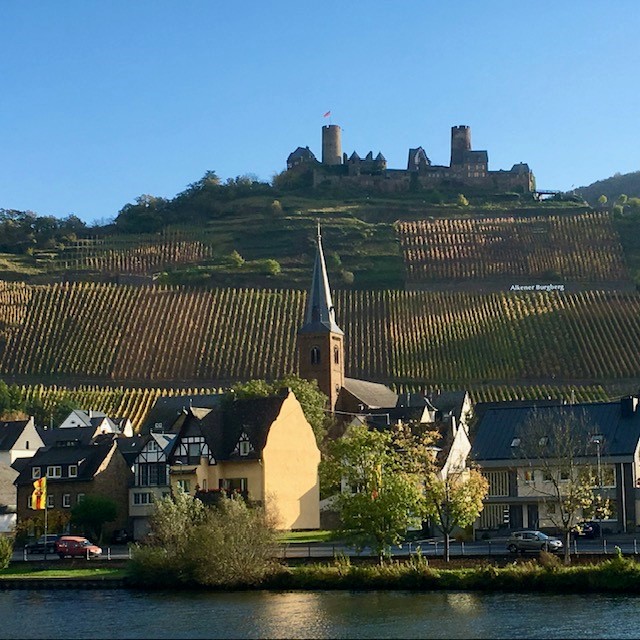 Mary Joli brings with her a wealth of wine knowledge and experience from 20 years in the Oregon wine industry, starting in wine shops specializing in Oregon Pinots, and later with several small production Oregon wineries. Mary has managed tasting rooms, formed and structured wine clubs, hosted special events and vineyard weddings. She is currently the SE Regional Sales Manager for Willamette Valley Vineyards.
As a TWA international flight attendant Mary traveled extensively throughout Europe she first discovered the joy of drinking elegant old world wines. Over a four year period Mary tasted her way across Europe and developed a palate and passion for wine. After settling down and raising a family Mary returned to the workforce to pursue her passion for wines, of traveling and meeting new people, working with Willamette Valley Vineyards has enabled her to live her dreams.
At home in Oregon Mary enjoys hiking the dunes on the Oregon coast, organic gardening and kayaking on the Willamette River. She actively enjoys Oregon's endless forests, snowy mountains, rugged coastline and, of course, its elegant wines!
Mary is looking forward to sharing two of her favorite wine regions: Rhine & Moselle Valleys. Marvel at the diverse landscapes as we cruise from colorful Amsterdam to tiny Luxembourg, passing cosmopolitan Cologne, iconic rolling hills with their stately castles and leafy wineries. At each port delve into the rich history of wine-making and explore the region's cuisine during a series of experiences carefully designed to take you to the next-level of wine and food appreciation. We look forward to welcoming you onboard in the near future!
from
$3,723/Person, Double Occupancy